Following is a fun, snapshot look at our talented Creative Director, Carrie Creegan.  Enjoy!
Favorite Dish When I Was 6:
Pancakes…. I could eat like 8-10 pancakes in one sitting.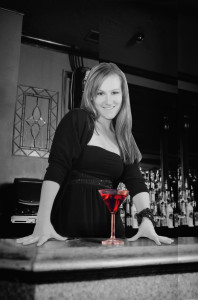 Favorite Dish Now:
How can I possibly name one? Seared Ahi Tuna with Wasabi Glaze would be one of my favorites. Honestly I love tuna, spicy tuna rolls, grilled steaks and even tuna salad.
Favorite Beverage When I Was 10:
Definitely milk, I drank milk at every meal and even with snacks…which sometimes was chocolate milk.
Favorite Beverage Now:
Alcoholic or Non-Alcoholic? I love a glass of wine with dinner. But throughout the day I drink mostly water.
Favorite Restaurant When I Was In College:
BJ's Steakhouse!  They served the best spinach dip with garlic bread. It was called Bongo Bongo Dip.
Favorite Restaurant Now:
Martin's in Hazelton, PA
Favorite Musical Artist/Genre When I Was 13:
No Doubt,  Blackstreet, Jock Jams, La Bouche, Oasis…. I was all over the place, mostly listening to the Top 40 played on the radio and recording them on my cassette player, which consisted of hanging out with my boom box with my finger on the record button.
Favorite Musical Artist/Genre Now:
Country – George Strait, Eric Church, Jason Aldean, Carrie Underwood
My Dream Vacation When I Was 12:
I don't recall having a dream vacation other then wanting to go on our yearly family vacation to Westmoreland State Park VA, where we rented cabins and all my cousins and aunts and uncles would vacation the same week. We'd water ski, fish, search the beach for sharks teeth.
My Dream Vacation Now:
Traveling Europe, The Mediterranean, Hawaii, The Caribbean, you name it I dream of seeing it.
What I Wanted To Be Growing Up:
I had no clue… My mom was a teacher and my dad is an architect, so I knew I didn't want to be either of those, because obviously I thought it was cooler to do my own thing and not follow in their footsteps. I thought I'd have my own unique path…. But little did I know the creativity that ran through my veins would prevail!
What I'd Be If I Weren't A Creative Director:
An architect, interior designer or a teacher… Who'd a thought!