Ideaworks Marketing recently captured a District Two, American Advertising Award (ADDY) in the Industry Self-Promotion category for its 2014 Annual Calendar.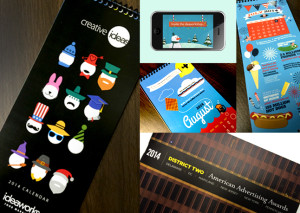 The calendar showcases an engaging combination of practical information and creative infographics to bring each month to life. In addition, a special augmented reality feature was employed which enabled calendar recipients to connect to a specially created holiday video produced exclusively by the Ideaworks team.
District Two covers the states of Delaware, Maryland, New Jersey, New York and Pennsylvania as well as the District of Columbia. This year, over 500 entries were submitted to the District Two competition by 157 companies who qualified by winning local ADDY Award competitions.
According to Cynthia Park, Governor of the American Advertising Federation's District Two, "Winning at the District Two level is another testament to the prestige of the competition. The District Two competition is one of the toughest regions in the country in which to compete."
Commenting on the recognition, Donna Hansbury, President of Ideaworks said, "Our entire team is very proud of this award. It is particularly gratifying to be recognized at such a high level in the industry, and for work that demonstrates our agency's passion for powerful ideas."