It's no secret that team building exercises can be incredibly positive, boosting morale and productivity within the office. Over the past few months, our team has grown and evolved, making it even more important for us to partake in activities and tasks – both small and large-scale – that bring us closer together and help us remain upbeat, inspired and committed to excellence each day. As we reflect on recent efforts, we are proud to say that they were, indeed, the kind of constructive, motivating activities that a business hopes to enjoy!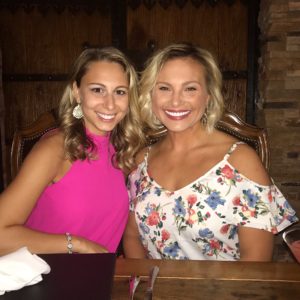 In late July, Peter Steve, our owner and CCO, and Donna Hansbury, president & CEO, generously decided to plan an employee outing that was far different than the traditional company picnic: a spa day for the team! We started the day with relaxing treatments and lunch, followed by a delicious dinner together at a local restaurant. At dinner, we played games to get to know each other even better (complete with raffle prizes!) and shared lots of laughs. Together outside of work, we were able to unwind amidst a busy summer at the agency.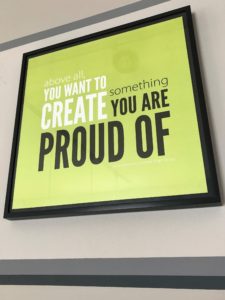 In August, we also began brainstorming new ways to keep engagement levels high on social media; we didn't have to look far to come up with a great idea. We receive so many compliments on our beautiful office, and oftentimes, we tend to take for granted how inspiring our workspace can be. Thus, we decided to begin a Motivation Monday series on Facebook, Instagram, Twitter and LinkedIn, where we draw attention to a particularly inspiring spot within our office each week. So far, we have featured motivational quotes that hang on our agency walls, a shot of our conference room and a look at our beautiful building from the outside, all of which help to showcase how we source creative inspiration from unique places every day.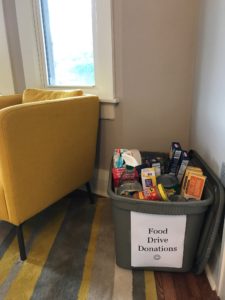 We took part in Hunger Action Month for the month of September, working as a team to collect donations for the Commission on Economic Opportunity (CEO)'s Harry & Jeanette Weinberg Northeast Regional Food Bank. We collected dozens of canned and dry goods, hygiene products and baby items that will be distributed to local families in need. From coordinating the donations and packing the car to delivering the goods and meeting with members of the CEO, this experience was one that drew us closer together while helping neighboring communities in the process.
Boss' Day takes place in October, and this year, we decided to hold a special celebr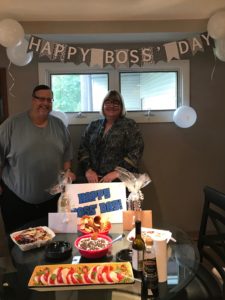 ation for Peter and Donna to show our appreciation for them. Being that Donna was leaving for Italy just three days later, we put together an Italian-themed lunch for our two amazing bosses. From the antipasto to the homemade dips and the laughs and stories shared in our office kitchen, this memorable day was one of the best.
October also marks Breast Cancer Awareness Month, and our agency used that time to recognize the brave women who battle this disease, including some of our own friends and family. Jordan, daughter of our vice president of creative and operations, Patty Pugh, and her field hockey team sold t-shirts to benefit That Special  Woman, a local women's healthcare boutique. Spectators wore the shirts during the girls' annual Pink Game, and Ideaworks kindly purchased a shirt for each of our team members. We sported them together and held our own a miniature "Pink Out" at the office.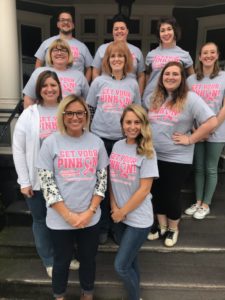 It is with a great amount of enthusiasm that we are able to look back at the past few months and see our team growing together. We are committed to making the culture at Ideaworks as engaging as possible, and we are always grateful to have a wonderful team that is committed to discovering, dazzling, and delivering day in and day out.